| | | | | | | |
| --- | --- | --- | --- | --- | --- | --- |
| Thursday, September 21, 2023 | | | | | | |
| | |
| --- | --- |
| | It's a big week in St Francis: We are so proud to be the home of the PGA Championship! |
| | |
| --- | --- |
| |  The PGA Championship Pro-Am |
Tuesday's weather was perfect as 31 professionals and 93 amateurs teed off in the Pro-Am of this prestigious event.

Momentum, being a Sunshine Tour partner sponsor, summed it up in their letter of thanks:
Dear Thomas and Priscilla,

Just a short note to say THANK YOU for an AWESOME experience at the recent PGA Championship event held at St Francis Links!

It was my first PGA event … and I can now see why it has been such a GREAT SUCCESS for the past 100 years!

Priscilla you, and all the other Sunshine Tour team members behind the scenes (together with the St Francis Links staff and all the other Sponsors involved), truly helped create a MEMORABLE experience for each of us! Your professionalism and attention to detail, the gifts received, and the "personalised" touch, together with the attitude and passion that everyone involved displayed throughout the day was AMAZING! Please pass on my thanks to EVERYONE involved.

Nothing was ever too much trouble and Jeff and his team really ensured a "slick and smooth" running of the event! THANK YOU once again. I thoroughly enjoyed it and am really looking forward to the next event!

Wishing you all the very best for the rest of the tournament!

Kind regards,
Steven Matthews CA(SA)
Executive: Direct Client Engagement
Momentum Corporate
C: +27 82 464 6862
www.momentum.co.za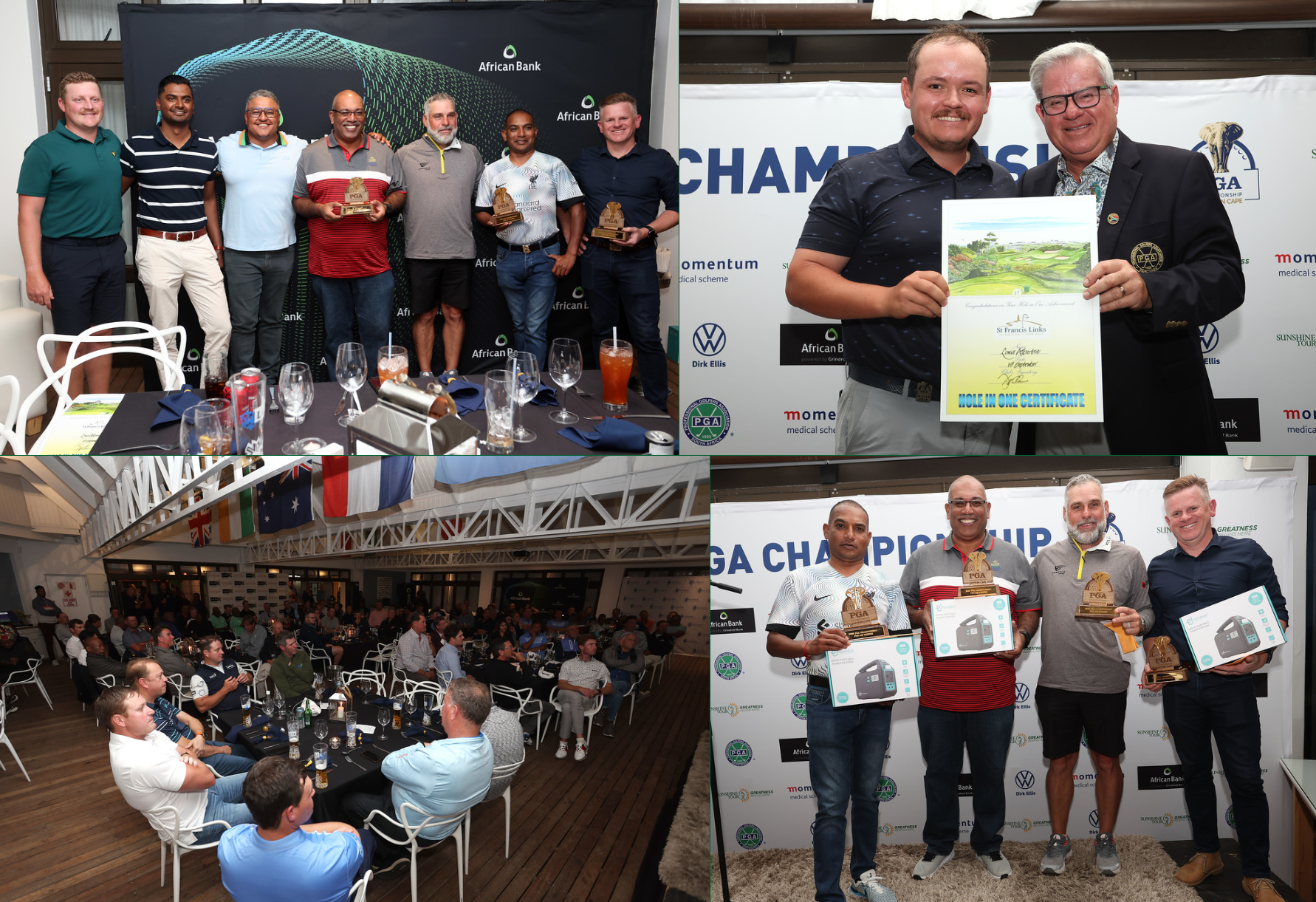 Photo courtesy of the Sunshine Tour (Photographer: Shaun Roy)
Photo courtesy of the Sunshine Tour (Photographer: Shaun Roy)
Meanwhile, these professional golfers make things look easy!  During the Pro-Am, Louis Albertse aced the 17th hole and yesterday, during his practise round, pro Jason Roets did the same, also on the 17th!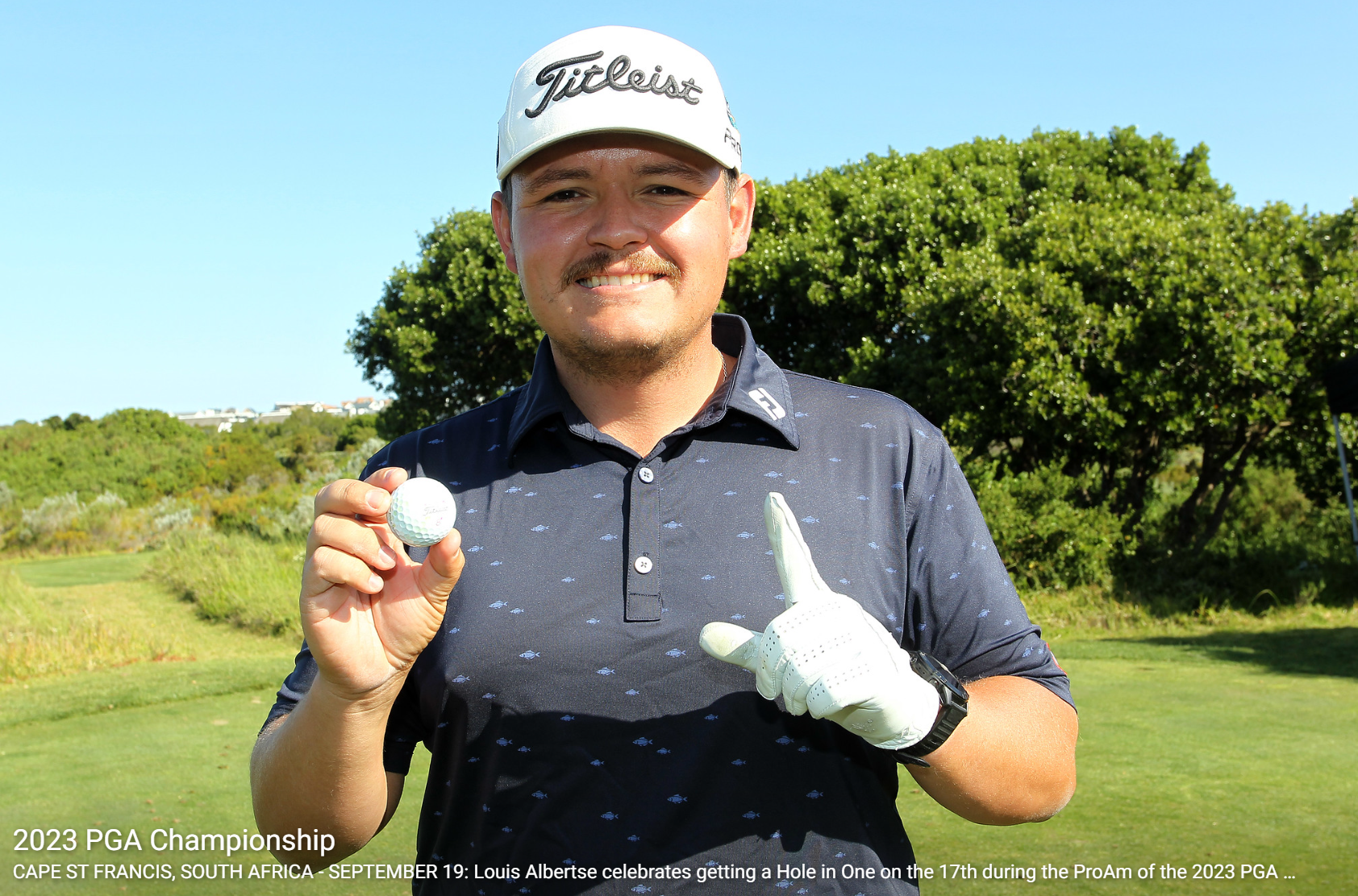 Louis Albertse
Photo courtesy of the Sunshine Tour (Photographer: Shaun Roy)
Our members Dirk Ellis Jr. and Gary De Bruin represent two of the valued sponsors this week. Thanks, guys for your continued support!
| | |
| --- | --- |
| | The PGA Championship and The Calamari Classic lead the way! |
The 2023 version of the Calamari Classic celebrates 26 years at St Francis Bay Golf Club. Nearly 300 players will tee off from Friday to Sunday this week! Village Square SuperSpar is the title sponsor this year.

We wish the Club and all the players the best for the weekend. But, as usual, the Calamari brings some weather, let's hope it stays away!

When The Sunshine Tour announced the return of the PGA Championship to St Francis Links, the date change meant that we would be hosting great golf this same weekend. 128 top Sunshine Tour players tee it up from today! Spectator access is free… bring the young ones to be inspired by these great golfers! The clubhouse is also open for visitors to enjoy a refreshment.
| | |
| --- | --- |
| | Calamari Festival: "St Francis – The home of local calamari" |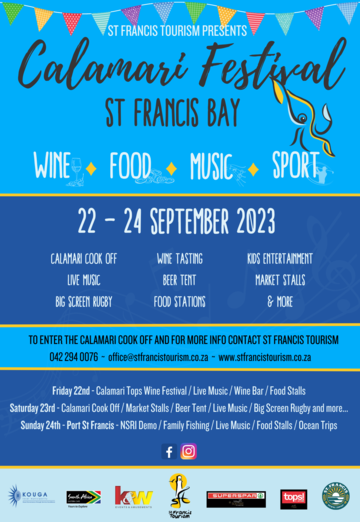 The 2023 Calamari Festival, organised by St Francis Tourism is scheduled for Friday, 22 September, and Saturday, 23 September 2023.

The festival complements the long-standing Calamari Golf & Bowls Classics and building on the success of the inaugural event in 2017, 2018, and 2019 was outstanding. With the Covid-19 pandemic and the lockdown restrictions no festival was possible in 2020. In 2021 we went deconstructed and in 2022 we were back with a program of note! This year we will fill the program with a lot of fun activities for the whole family.

The main sponsor of the Calamari Festival is Kouga Municipality, endorsing their vision of being the events capital of SA.

The weekend kicks off with the Calamari Tops Wine Festival on Friday, 22 September from 15h00 – 20h00. You will be able to enjoy the fine wines of at least 20 top wine farms. Enjoy the "Afterparty" from 20h00. Lynn & Gerald will entertain us with their music and the bar will be open. Food and snacks will be available from various restaurants on the festival grounds.

The main attraction is the Calamari Cook-Off. This year we plan to have at least 20 teams competing for the title of Calamari King/Queen. Visitors to the festival will be able to buy tasting tickets to taste the different calamari dishes from the entrants and vote for their favourite dish.

Stalls from the ever-popular St Francis Market will be at the festival on Saturday, 23 September, offering you a wide variety of good quality products, yummy foods, and sweet treats.

After the success of last year's fashion show, we will again showcase our local fashion on offer. For the animal lovers, we have a Best Dressed Doggo competition brought to you by St Francis Animal Rescue.

For more information on the Calamari Festival, please contact St Francis Tourism on (042) 294 0076 or send us a mail by clicking the button below.
| | |
| --- | --- |
| | Simmo Shines again at St. Andrews |
Dr David McLeary of Harrogate G.C. defeated St Francis Links member Keith Simpson (previous winner of the Jubilee Vase in 2015 and 2018) of Humewood G.C. at the 23rd hole, thereby winning the Queen Victoria Jubilee Vase, presented by Captain D. S. Stewart in 1887.
Keith Simpson was awarded the Manaia Trophy, presented by the New Zealand Golf Association in 1970 for the runner-up in the Queen Victoria Jubilee Vase.
| | |
| --- | --- |
| | Please note: No parkrun this weekend |
| | |
| --- | --- |
| |  Another great week of golf |
Please acknowledge and support all our great sponsors! Winners on the day need at least one team member present to receive their prize.
| | |
| --- | --- |
| |  Progressive Alliance Results |
1st:
Matthew Farrer
Dave Willows
Jordan Bendeman
Ernest Bendeman
85 Points
2nd:
Tony Gunton
Kern Wilson
Richard de Bruin
Gary de Bruin
83 points
3rd:
Wallie Coetsee
Christopher van Rensburg
Dehan Joubert
Pieter Zietsman
81 points
| | |
| --- | --- |
| | Coming soon! The Links Cup 2023 |
International Captain – Thomas Grimsley – SA Captain – Graham Botha
| | |
| --- | --- |
| |  Friday, 29 September 2023 |
Join us at 6pm for the flag-raising function with anthems from each country followed by an optional pizza station with salad selection at R155 per person (for catering purposes please indicate on the entry form if you will be staying for pizza).
| | |
| --- | --- |
| |  Saturday, 30 September 2023 |
18 holes
Tee Times: from 07h30
Front 9: Betterball Matchplay
Back 9: Foursomes Matchplay
18 holes
Tee Times: from 07h30
Singles Matchplay
With prizegiving following at ± 14h30
| | |
| --- | --- |
| | Join our Heritage Weekend Challenge |
This weekend is Heritage Day. What are your plans? If you are going away for the weekend, don't forget to pack your golf bag and a shirt adorned with our club's logo – there's no better way to celebrate being South African than playing a round of golf at one of our country's beautiful golf courses.

Let's celebrate our love for our club, our country, and the game in style!
| | |
| --- | --- |
| | Fitting by the numbers |
| | Where sweeter strikes lie |
Recently we spoke about the importance of squaring the club face at impact to hit more accurate irons shots. Today we're focusing on something that can prevent you from squaring the face even if your swing is perfect and your shafts are correctly fitted for you: lie angle.
Making it easier to hit your target

Struggling with a pull? This may not mean you've made a bad swing but rather that your clubs' lie angles are too upright for you. Perhaps it's a push that plagues your game? A lie angle that's too flat could be the cause.

By fitting you for the correct lie angles, you'll find it a lot easier to control your clubhead through impact and keep the face square.
| | | |
| --- | --- | --- |
| | | A positive change of just one degree alters shot direction by 4 metres! |
| | | |
| --- | --- | --- |
| | | Unlock your true potential |
With the right iron lie angles you'll unlock your true approach play accuracy!
Ryan Fox surges past European Ryder Cup players to WIN PGA Championship!
Ludvig Åberg displayed his fallibility, Rory McIlroy charged and Tyrrell Hatton looked set to hand Luke Donald's European team a huge Ryder Cup boost. Instead, it was Ryan Fox who prevailed at the PGA Championship after a spectacular closing of 13 holes at Wentworth. Another victory for Srixon and Cleveland!
Srixon ZX5 Mk II 9.5° Driver
Srixon ZX Mk II 3 Fairway
Srixon ZX5 Mk II Irons 3i-5i
Srixon ZX7 Mk II Irons 6i-P
Cleveland RTX 6 ZipCore 50° MID, 56° MID, 60° MID
Srixon Z-STAR XV
| | |
| --- | --- |
| | Track to improve |
| | Green-light your improvement |
Whatever happens on the green, if you've reached that green in regulation, you're improving your odds of scoring (and it feels fantastic to see your ball land and stick from over 100 metres out). We're going to help you experience that more often.
How many greens do you hit each round? Is your tendency to miss them short, long, left or right?
| | | |
| --- | --- | --- |
| | | Over the next three rounds, track how many greens you hit and when you miss, the nature and location of those misses. Anything less than four greens in regulation and you're placing too much stress on your short game. |
| | | |
| | | Once we better understand your tendencies we can make swing adjustments that have the highest impact on your game. |
If you're hitting less than four greens in regulation during 18 holes, we've got a massive opportunity to improve your score and your playing experience. And unless you're finding every green in regulation, there's always room for improvement!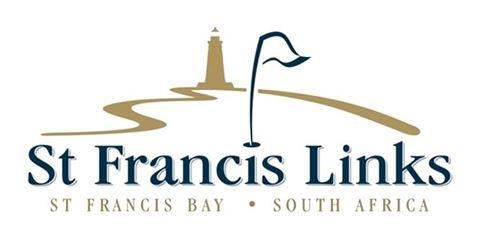 This mail was sent to {{contact.contact_email}} by St Francis Links . and is provided as a service for the members and guests of St Francis Links and has been supported and sponsored by advertisers in this email and our partner suppliers. For any queries contact us on +27 42 200 4500.

Sent on behalf of St Francis Links by
RetailTribe: Unit 8 | Blaauwklip Office Park | Stellenbosch | 7600 | 021 880 2693