Many corporations use the golf course as a good way to say thank you to their clients and friends. For the past two days, a PE based group came to St Francis Links to get "personal" with their clients. Instead of filling the course and spending limited time with their invited friends, this trip was planned differently. I met with the host at another golf day a year ago and we agreed to host a small group here, playing, eating and staying the night. This year we went a step or two further. With some good time management, we kicked off their retreat with lunch on the Veranda, followed by a putting clinic, 18 holes on the Ultimate Par-3, a shoot-out on the 17th and dinner in the Lighthouse Restaurant.
After a night in the houses on the estate, we started with a good breakfast and 18 holes on the Championship course. A hearty Santa burger with a simple prize giving and the boys were back in the office before days end! The entire package was much less than hosting a golf day and the personal time with their clients was priceless.
Who's next?!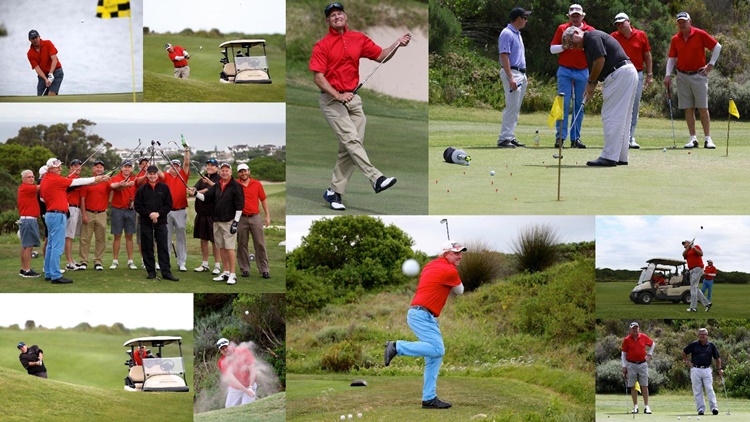 The WGSA Mid-AM produced a worthy Champion!
Vanessa Smith proved she was the best in the business as she led the way to her second Mid-AM title in two years. Following her victory at Irene CC last year, the affable golfer from Milnerton handled the conditions Mother Nature brought. The field of 76 golfers from all over SA were very complimentary of the course and the team here despite the difficult conditions.

It's nice when Mother Nature can through her worst and the participants could see the greatness of St Francis Links. Charl did a great job restoring the playability after 76mm on Monday. The Tuesday and Wednesday field completed play with NO PLACING (as the game should be played)

Your ladies mid-am champion: Vanessa Smith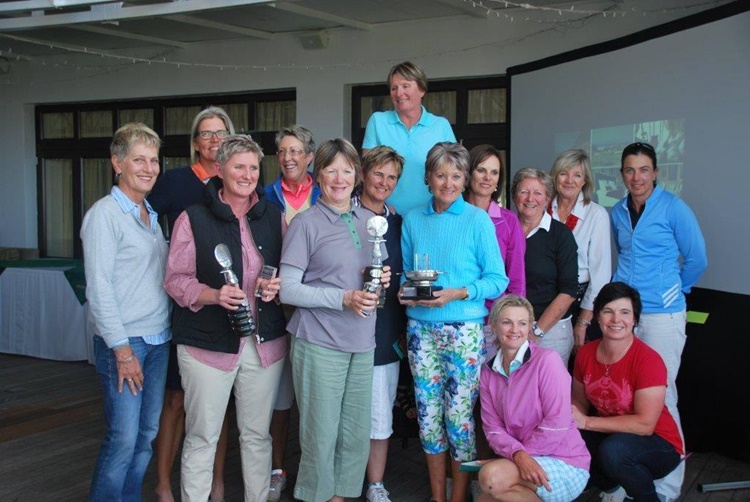 The other Division winners!
Note: Special thanks to Sandy Cunningham and our lady members who assisted during the tournament.
A Night at the OSCARS!

Join us for the Wednesday School Awards
(and other major winners for the year!)

NEW DATE: Wednesday, 2 December
The original date has been of 25 November has been changed to allow our members to a special planning meeting of the St Francis Bay Ratepayers Association also hosted here at The Links.

Thinus Talkin' – Time for a Chicken Wing!

This is a term used to describe when the left elbow buckles outward, towards the target. You will not see many golf professionals with a "chicken wing" in their golf swing, it is common with amateurs. The result is a loss of distance and inconsistent direction.

It is caused by some of these problems:
1. Steep angle of attack.
2. Playing the ball too far back in your stance.
3. Head moving downwards in the swing
4. Right arm and hand being too dominant in the swing.

I suggest trying the following to cure the chicken wing:
1. Try to be dominant in your left arm and hand during the swing.
2. Shallow out your angle of attack
3. Place a towel under your left arm and keep it there during the whole swing.
4. Extend your left arm during the downswing

I encourage you to begin your journey to better golf, contact me pro@stfrancislinks.com or 0827643044.

Thinus Keller
PGA Head Golf Professional


November 11 – Open Wednesday. FREE CARTS Special rates with Meat prizes and snacks following play!
November 12 – Classic with Bob Skinstad, click here!
November 21-22 – Pam Golding Ladies OPEN Weekend

Click to enlarge
ST FRANCIS LINKS "MAJORS" AND "SPECIAL EVENTS" FOR 2015
Note the date changes!
January 3-4: Men's Member-Member Partnership, Scott Keevy and Martin King, Champions
April 11: 1st Qualifier for the Nicklaus Champion of Champions, Ernest Muller
April 25-26: Club Championships, Men's Champion, Sean Botha; Ladies' Champion, Janine VD Merwe
June 21: 2nd Qualifier for the Nicklaus Champion of Champions, Linda Muller
July 11: Sanlam Cancer Challenge – SFL Qualifier
July 18-19: Men's Invitational Derek Ryan and Francois V Vuuren, Champions
July 19: 3rd Qualifier for the Nicklaus Champion of Champions (SFL) Norman Pretorius
August 1: Ladies' Invitational Margot McGregor and Louise Robertson, Champions
August 9: 4th Qualifier for the Nicklaus Champion of Champions (SFL)
August 11-25: Spring Programme – Course and Clubhouse Closed
August 29: Sanlam Cancer Challenge FINALS at Uitenhage
October 9-10: Links Cup (South Africa 16-8)
November 21-22: Pam Golding Ladies OPEN Weekend
November 27-29: Nicklaus Champion of Champions (St Francis Links)
"PGA MAJORS 2015"
PGA Tour
April 9-12: The Masters, Augusta Georgia, USA (Jordan Spieth, Champion)
June 18-21: US Open, Chambers Bay, University Place, Washington, USA (Jordan Spieth, Champion)
July 16-19: Open Championship, The Old Course, St Andrews, Scotland (Zach Johnson, Champion)
August 13-16: US PGA Championship, Whistling Straits, Kohler, Wisconsin, USA (Jason Day, Champion)
October 8-10: The President's Cup, Jack Nicklaus GC Korea, Songdo IBD, Incheon City, KOR (USA Champion)


Southern and Eastern Cape PGA EVENTS FOR 2015

Kind Words from an eager traveller
On behalf of our golf tour that played the Links on 30 & 31 October I would just like to take a moment of your time to congratulate you and all of your staff for an unforgettable golfing experience at the St Francis Links.

We all really enjoyed the St Francis Links tremendously (all be it a little too much at times 🙂 )

From the professionalism we experienced from Thinus with the booking, to the outstanding levels of service we experienced from every one of your staff members (ladies in the halfway house, gents that cleaned our clubs and looked after us on the course all). They all knew exactly what was expected of them and did not hesitate to go the extra mile. The course was also in great condition and you can give our thanks to your green keeper and his staff as well.
We embark on our tour once a year and aim to play different courses / in a different area every year. After the experience we had at the Links this year we all had to debate whether we should not just come down to St Francis every year to have this all over again (I did however warn them that it is not likely that we will experience 2days of such little wind again), as I am sure that there is no other golfing experience a like in South Africa! (And we have played – Simola, Pezula, DCC, Zimbali, Leopard Creek, Sun City etc.)
Proudly St Francis Links
Look beyond the cost-saving narrator with his hair in his face and embrace OUR St Francis Links so ably presented by The African Travel Channel.

As we approach our 10th year, we are upgrading our library of images, videos, our website and everything else we can to keep the great St Francis flag flying high.
Jeff, Liezl and The St Francis Links TEAM