2019 was challenging, yet rewarding again!
As we come to the close of the "teens" I can reflect on the many wins we had as an Estate, a great destination and as a residential community. As an Estate in South Africa, we have been acknowledged as one of the 10 best. Financially, we remain prudent, without compromise to quality. We continue to plan for the future by finding solid solutions that not only benefit our property owners but also serve to attract investment. This year, 40 new homes were completed with nearly 60% of our homeowners staying here permanently. Young families and the forever young enjoy the comfort, the lifestyle choices and the security that are all provided for.
St Francis Links is the real deal and with the support of our great Board of Directors, our team, full of enthusiasm and commitment, will continue to refine our successful model to further enhance our desirability and comfort.
Financial stability, lifestyle choices with measures in place to keep living here as safe as possible are the cornerstones for our success to date and our future.
This year also came with challenges as the entire tourism market, nationally and internationally was down from last year, which was our best year ever. Because of provincial rotation, we were not in line for national amateur events other than the Boys Under-17 which we secured during the course of the year. There was a big fall in local winter business as many South Africans tightened their belts. The rising cost of sales affected our ability to maintain the profitability or our food and beverage, but rather than cut quality, we absorbed the costs and continued to provide a product you (and we) are proud of.
Now its the start of the holiday season and many of you will have family and friends here with you. Remember, the mornings are reserved for member (and your guests) play until 48 hours out. We will always do our best to accommodate you and yours on the course and in the Club. We have some fantastic functions on the cards so this is the place to be!
Happy Holidays!
The President's Cup
The final results did not tell the whole story
Ernie took a group of mostly young professionals from nine different countries and cultures and moulded them into a cohesive unit that led the highly favoured Americans after the team play. The 10-8 lead they took into the singles failed to stop the experienced Americans. As Good as Ernie was as a leader, it was Tiger's play on the course that led his side to victory. For me, it was like living the dream. The folks from Premier Africa hosted South Africans and Americans with unbelievable on-course luxury in the form of our own suite located at the tee shot on 16. With so many balls coming to rest at my feet, I turned to Facebook Live to share the moments! Many of you commented positively about the fun I had with that. The off-course hospitality was just as impressive with amazing restaurants and fabulous food and drink. Many of the attendees were treated to golf and tours. I was there to watch golf. Having said that, there was a bonus. Two of the Americans saw that the Elton John final tour would be at Arthur Ashe Stadium while we were there. Matthew Kent from Premier Excursions was on it; even though the show was sold out for weeks, he found tickets and great tickets at that. I was fortunate to experience my third Elton show in nearly 50 years and he and his band were as good as ever – for 2 hours and 40 minutes.
It's been a privilege to represent St Francis Links at events like this and trust me when I say, the people I met know where we are and will make the effort to come and tell their friends. I managed to tell some great Ernie stories at each of the dinners. At the final dinner, I sold my South African scarf to one of the American wives. Before I knew it 4 more were sold and Els for Autism South Africa will benefit to the tune of a few thousand dollars! It was more than a golf tournament – it was extra special!
What to look forward to
Great "Hutchie Tribute" coming to SFL and the community!
Get booking as these events will fill up!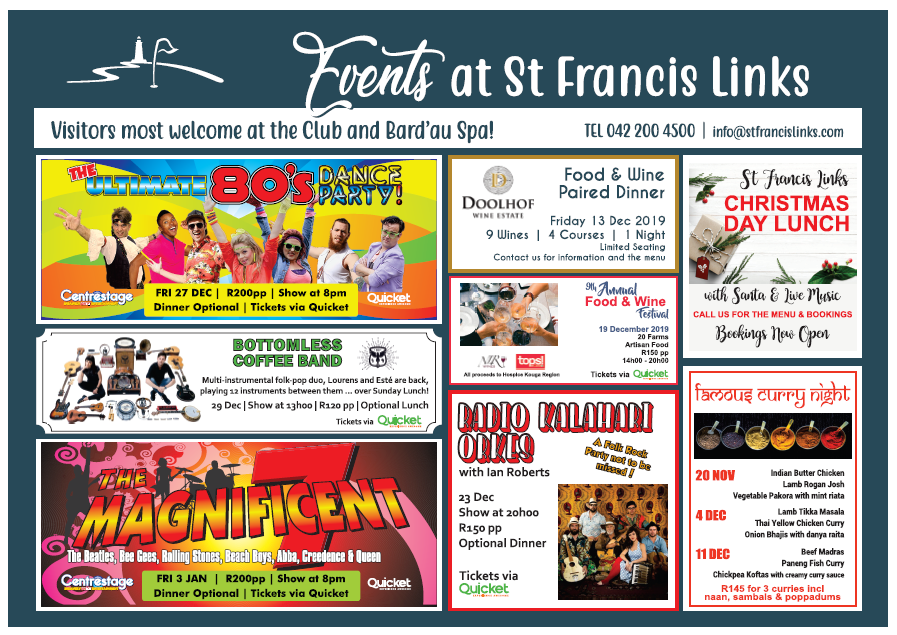 19 Dec – Annual Food & Wines Festival – Buy tickets here
23 Dec – Radio Kalahari Orkes – Buy tickets here
27 Dec – Ultimate 80's Show by Centrestage – Buy tickets here
29 Dec (Sunday Lunch) – Bottomless Coffee Band – Buy tickets here
3 Jan – Magnificent 7 Show by Centrestage – Buy tickets here